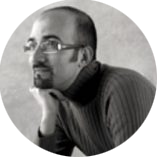 Marco Pisati
Fascinated by new materials and the latest technologies, he implements his ideas in the most wide-ranging sectors: from Aerospace, designing the interiors of aerospace living units in zero gravity for ASI (the Italian Space Agency), to the terrestrial nomadic sphere, creating the first example of a nomadic interactive office (Motorhome ACI). Invited to display his works at Leopolda Station in Florence (Deep Inside-Image), together with Grado Zero Espace, a leading company in the aerospace textile sector, he presented the prototype of a jacket for astronauts in Diaplex (a shape memory textile). His experimental project approach has led him into partnership with a wide variety of companies. He won the special jury award at the 2016 German Design Awards in the Bathroom and Wellness category with his product Colour, which he designed for Gattoni.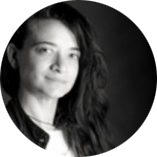 Manuela Bucci
Connect human habits with technologies. This has always been the focus of Manuela Bucci's work. Artistic soul and profound technical expertise, combined by passion. Photographer, with a poetic-pragmatic vision of the real and a very personal concept of portrait, digging in the personality of the subjects, Manuela Bucci approaches the design by working for Cini Boeri after graduating in Industrial Design at the Politecnico di Milano in 2000. She matures her creative elegance, the subsequent experience with Aldo Cibic leads to the ironic expression of talent that builds iconic everyday objects of usability. The last experimental dump, before flying alone, she is next to the famous Japanese designer Makio Hasuike. In 2004, after an excursion through Italian design studios and a valuable experience from Ariston, Manuela Bucci enters the Zagato Carrozzerie in order to deal with projects that assimilate design to electronics. A bridge for the passage to Indesit, where Bucci is entrusted with creating the international design team. Nowadays Manuela, thanks to the extensive experience accumulated over the past 15 years by collaborating with major Companies like Indesit, Hotpoint/Ariston, Scholtès and Candy Hoover, is a mature designer. Manuela's broad expertise is such that she can deal with integral design, trends, corporate identity to deliver business solutions that meet specific Client's needs.
CLIENT: Candy/Hoover, Indesit, Hotpoint/Ariston, Scholtes, Bertazzoni, eNovia, K8 Radiatori, Salice Paolo, Ento Maniglie, Vesta, Piuma, Muhle.
AWARD: 2017 – Red Dot Award Concept / Armchair Île Flottante.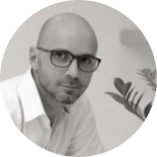 Davide Diliberto
I describe myself as a designer of refined shapes. I think that shape is the first feature for any kind of product, the rest is important too, but it comes later. Analysis is an essential step, so I spend a lot of passion and time on it. Then I try to transfer my conclusions on products that can tell their message the clearer way as possible, always by a delicate touch and a subtle love for detail, something that should be looked closely. I studied Industrial Design in Milan, then I made my first experiences at Zagato car design firm, and others studio with a leading role. In 2008 I founded my first own agency together with Manuela Bucci, achieving significant results with brands like Indesit Group, Salice Paolo and others. In 2015 I decided to focus on what I like better, with my own studio. My clients appreciate me for brand vision, trend analysis, CMF, sober taste yet with character and all the communication focused on product, up to photography, graphics and texts for catalogues.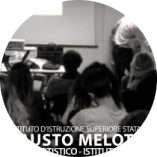 Junior Designers
Using an unusual partnership K8 has developed products in conjunction with students of design, a collaboration of our experience and the innovative ideas of those at the Artistic College of Liceo Fausto Melotti in Cantu known as the project "Junior design". This association has created a feeling of professionalism with a human touch and the chosen designs were shown at the Salone de Mobile in 2014. The new showroom at K8 will continue to be available to students in order to improve their technical and artistic expertise.